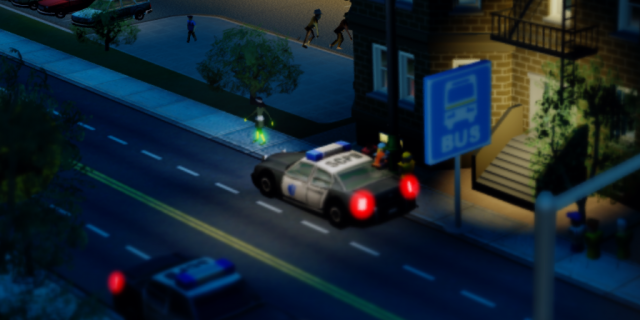 In exclusive photos obtained by The Bugle, it appears that the walking dead are indeed walking the streets of Simsville.
A series of photos taken by a reader of The Bugle, who wishes to remain anonymous, shows police battling the undead on the streets of Simsville. The incident happened on the night of the 26th, and coincides with reports by other readers of a gunfight near the location where these photos were taken.
Witnesses also phoned in to The Bugle's Eye Report Hotline (1800-BUGLEME), telling us that the source of the zombie infestation may have been the nearby Simsville Heights Clinic.
Simsville PD issued a firm "no comment" when asked by The Bugle for clarification on the zombie outbreak.
The cause of the outbreak is so far unknown. Some theories floating around the Reddit suggests that the city's pollution problems are to blame. One theory said that the outbreak is related to the recent llama meat contamination scare. Others blame solar radiation from the nearby concentrated solar array plant.
One theory actually blames the popularity of the hit AMC TV show The Walking Dead for "inspiring" the deceased to come back to life again.